Various books on travel, trekking and adventures. Below I report on the recent books I have read. They are available at travel bookstores such as Zwerver, outdoor stores such as Bever and Zwerfkei or online at Bol.com. Some of them are only available in Dutch, most of them also in English.
Landlines – Raynor Winn
Landlines is the third book by Raynor Winn. I loved the first book, the Southpath! Like many other readers, I was captivated by the story of a monster journey through the English countryside and surviving as a homeless person while suffering from an incurable disease. I found the second book 'The Wild Silence' a bit heavier. Moth and Raynor now live in Cornwall in this book and the first part of the book in particular turns Raynor inwards, literally and figuratively. Just when she goes outside, describes nature in all its beautiful details, I can really enjoy the beautiful sentences she writes.
She also does this in her third book 'Landlines'. Moth's health continues to deteriorate and Raynor plans to walk the Cape Warth Trail in Scotland. Of course that is much too heavy for him, but they persevere. Moth is gripped by the environment and puts one foot in front of the other more and more easily… And what that leads to, you should definitely read for yourself!
Another beautifully written book. I read it when we ourselves had just been in England on our bike ride and it seemed as if all the images Raynor describes touched me even more. Nature, climate change, the special encounters, Raynor writes it down so visually. You will get excited about the Cape Wrath Trail on the spot. Despite the recognizable hardships, the rain, the blisters, the fatigue, you want to go outside! Wonderful as a book can do that to you!
Northern Lights Runners – Tim Voors
Tim Voors previously wrote Alone and Not Alone about the Pacific Crest Trail and Te Araroa hikes respectively. This third book, Noorderlichtlopers, is about the Kungsleden. In it, Tim describes his journey, together with hiking friend Sunny, over more than 400 kilometers through Swedish Lapland. He does this in about three weeks, which I think is an impressive pace. To be honest, this also bothered me a bit, because why walk at such a fast pace?
This is familiar territory for me because I have walked the Padjelanteleden and part of the Kungsleden myself. At a slower pace that is! So it was very nice to recognize the environment that Tim can describe like no other. In addition, he discusses the thoughts and feelings you have while walking a trek. And there is also a lot of room in the story for the encounters with fellow walkers.
The book, like the other two books, is beautifully illustrated and contains beautiful photos. If you want to read this book, you should definitely buy the paper copy so that you can enjoy these images.
I was less captivated by the story than by Tim's earlier books. Whether this is because he also gives this book practical tips or whether the concept and writing style surprise me less, I don't know. 
On Human Power – Olivier van Herck and Zoë Agasi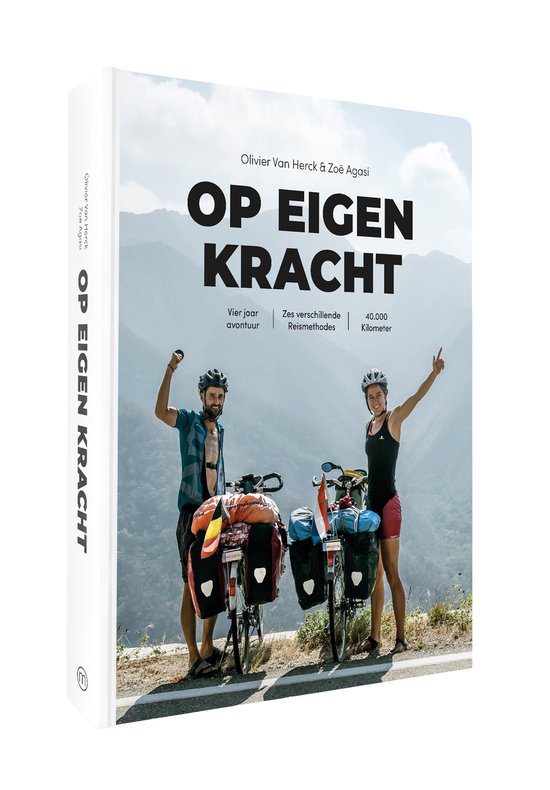 On Human Power is a heavy and beautifully executed coffee table book. It offers a lot of information and has beautiful pictures. Zoë and Olivier take you on their adventures. For four years they traveled the world on their own, using six different travel methods. They started on bicycles, used skis and skates, walked and used a canoe and sailboat.
In this way Zoë and Olivier discovered large parts of the world, but they also discovered the improbable goodness of fellow human beings, nature and of course themselves. Their doubts, setbacks and insecurities can also be found in this book. It's an honest story, authentic. It's nice to read.
In this book you are taken by this couple from the first plans, who are Zoë and Olivier, how does their first idea take shape and what drives them to want to do this on their own? The book is very easy to read. You can start from page 1, but you can also read the separate pieces about, for example, the budget of such a world trip. They give you useful tips and tell you what they learned. And they have a clear vision of how they want to travel, how they want to experience their adventures. Sustainable, slow, with an eye for people and nature. It's a thick book, you can't just read it in one day. That is not necessary! It inspires and enthuses. You feel like going out and exploring.
There's is an Englisch version available now! Look at www.weleaf.nl
Not Alone – Tim Voors
'Not Alone' is the second book by Tim Voors. The first part 'Alone' is about hiking the Pacific Crest Trail. Not Alone is about hiking the Te Araroa trail in New Zealand. A 3000 kilometer journey through breathtaking landscapes. Tim walks a lot and often and his first book showed that he can do that like no other. This time he is on the road for five months and tells about his adventures in the same pleasant way.
Last time Tim walked alone, this time he soon meets two women with whom he takes the rest of the journey. This book is more about the relationships between people and how Tim relates to others. It's about the connection he feels with them. Last time I was surprised by the layout of his book and the way he asks integrating questions to the reader, this time I found the book less surprising. It is more the description of his journey and less philosophical.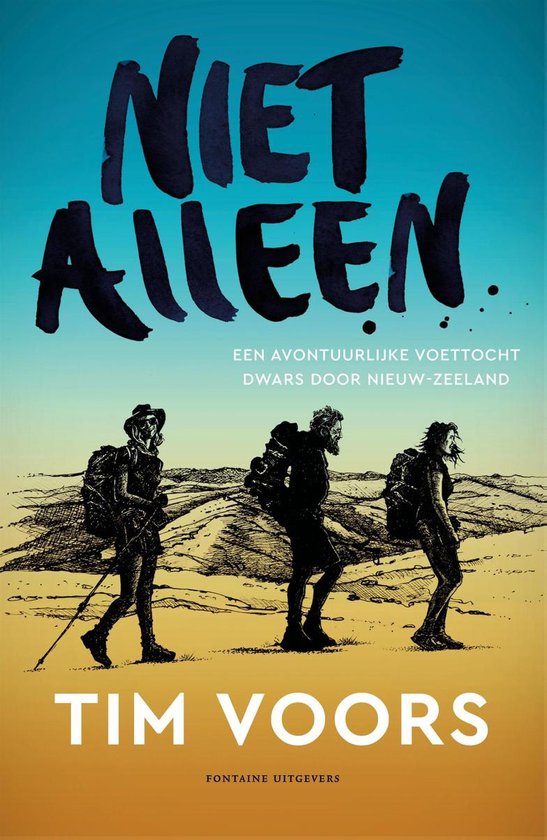 'Not Alone' remains a fine book about an adventurous journey. The story is easy and enjoyable to read. Tim is open about everything and is vulnerable. He also makes beautiful photos and illustrations. A great book if you dream of going on a long hike, whether you do it in your armchair or in real life.
This book will soon be published in an English version.
Escape by Bike – Joshua Cunningham
A handy and nice book to prepare cycling trips. In five chapters, Joshua tells you how to choose your bike, what to bring and how to camp in the wild. Issues such as navigation, safety and budget are also discussed. The book combines practical information with the description of legendary bike rides. Joshua can boast many years of experience. Joshua chooses the right bike and equipment based on destinations. The book starts with 'Forests', continues with 'Deserts' and 'Mountains', followed by 'Tropes' and finally 'Cities'.
This book has beautiful photos. It is beautifully executed and easy to read. It shows that cycling is very beautiful, but also that it can be quite difficult. The choice of certain routes and circumstances made me feel that it was sometimes too ambitious for me. If you like extreme challenges, this is a great book to read. And in any case to dream away.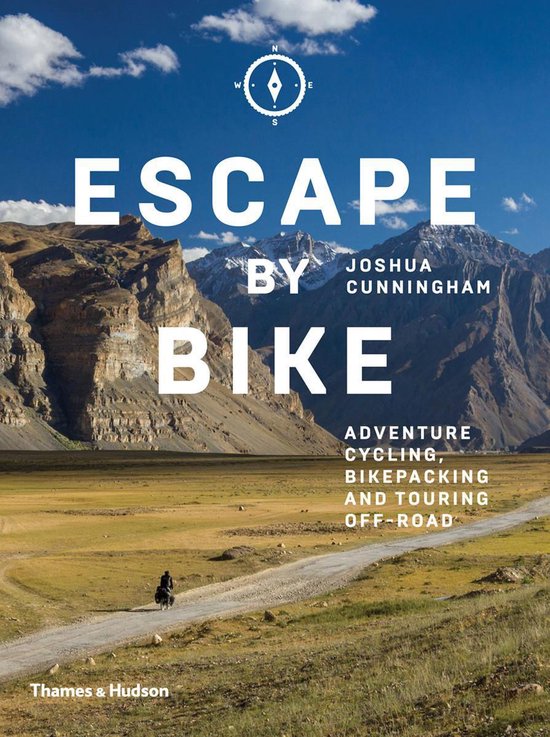 Fulltime Avonturier – Tamar Valkenier
Tamar Valkenier is an adventurer pur sang. One day she decides to say goodbye to her working life in the Netherlands. She is then a star chef and works as a psychologist at the criminal investigation department. Tamar will cycle through Europe on a self-assembled bicycle. Every kilometer is one and once in Switzerland she feels like a real cyclist. She hasn't stopped her adventurous life after her bike ride.
When the weather gets too cold in Europe to sleep in the wilderness, she leaves for Australia and then to Indonesia. She walks with camels through Mongolia and with a donkey through the Middle East. And of course she's going out with Miriam Lancewood in New Zealand. Hunting and living from what they find in nature.
Tamar is not afraid of the devil and looks for the edge. She used to struggle with anxiety disorders, now she is pushing her limits. Every time she makes special and not obvious choices. Tamar learns every day and describes her adventures very beautifully and visually. She is honest and does not shy away from her demons. Tamar has a talent for writing. She gives a good idea of ??what comes your way when you go into the wilderness. She enjoys but also describes the setbacks, the difficult choices, the cold…I enjoyed her stories.
Wild at Heart – Miriam Lancewood
This is the sequel to My Life in the Wilderness. Miriam goes on a trip in Europe with Peter. It seems a challenge to live in the wilderness in densely populated Europe as well. They walk through France, Switzerland and Austria. They can't hunt here, Miriam goes shopping every now and then. It is possible to live back to basics. Sometimes it's easy and they enjoy it to the fullest, sometimes it's a real struggle. They migrate to the warm Balkans and Bulgaria. Here they spend the winter in a dilapidated shepherd's hut in a small hamlet. They decide to buy such a house.
In this book it becomes clear that Peter is less fit than Miriam. Once in Australia he becomes seriously ill. Miriam is honest, shares her feelings. She finds it difficult to give up life in the wilderness, but Miriam doesn't want to lose Peter either. When Peter is recovering after returning to New Zealand, Miriam decides to hit the road one last time. A women's expedition into the rugged mountains. She goes out with Tamar Valkenier. During their adventurous journey, Miriam learns that Peter is not recovering. Is this her last expedition?
A beautiful, easy-to-read book. When you have read the first part, the way Miriam lives and lives is no longer new to you. I had expected that the book would be more about the walking tour in Europe, but this is only part of the book. Much more it is about what traveling and walking can do to you. What it means to live like this when things are not going well, when you get sick. What it does to your dreams and expectations. How Miriam and Peter deal with disappointment and illness. I liked the first book more, but I also enjoyed this story.
Hiking to Hell- how the trek outside sooner or later gets us – Are Kalvø
The title integrated me, what kind of book is this? Hiking to Hell? What is this about? Hiking to Heel is written by Are Kalvø. A popular Norwegian stand-up comedian who has written several books.The book is about the widespread tendency of people in their thirties and forties to go out. Are, itself raised on the beautiful Norwegian Geiranger Fjord, has nothing to do with nature. He moved to the city as soon as possible and feels very much at home when he is among the people, when there is noise, when there is commotion.

He makes fun of us, outdoor enthusiasts. He does this in a hilarious way. He doesn't just judge, he tries it out himself. He goes to a specialty store and gets a beautiful green coat and everything you think you need when you go out. Then he makes several trips and reports on them in a delightful way.
You will recognize yourself anyway, with your pants full of handy zippers, your amazing outdoor gear and your incredible stories about the most beautiful trails. Where does our tendency to go out and glorify this come from? Why do we necessarily want to eat dried food from bags and visit each other in expensive huts while we can also sleep in a hotel? Are will investigate and, whether you like it or not, will answer these questions.

An entertaining book that holds up a mirror to you. You may not agree with the best man, but he will make you smile. Translates into German (Frei Luft. Hölle) and Dutch (De OutdoorWaanzin).
The Saltpath & The Wild Silence – Raynor Winn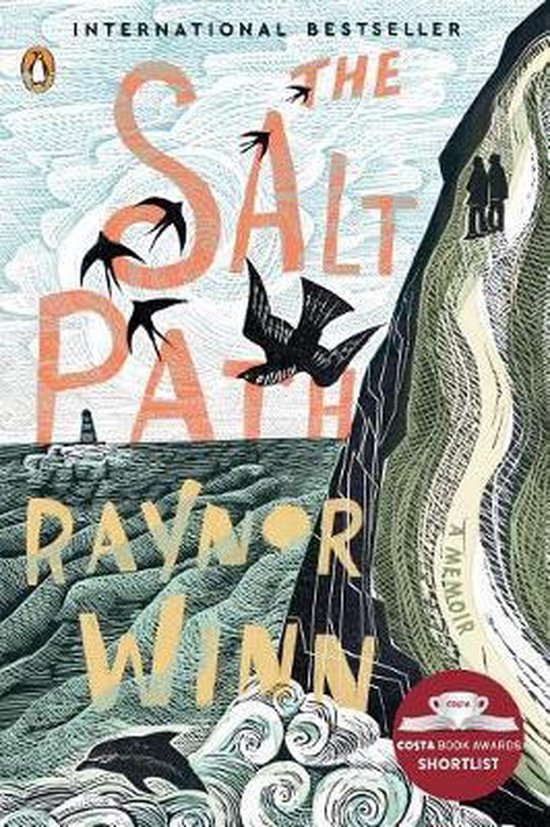 "The Salt Path", published in 2018, is the debut of Raynor Winn, in which she describes the hikingtrip she and her husband Moth take along the South West Coast Path. This book had been on the shelf for some time, I really wanted to read it. And now the sequel "The Wild Silence" has already been released.

In "The Salt Path," Raynor describes the life of her and her husband Moth in Wales. There they live in their precious home, which is in the heart of the Welsh countryside. Here they keep sheep and run a holiday guesthouse. Due to a speculation scandal, they lose their home and not much later they receive the ominous news that Moth is suffering from an incurable disease. Penniless, they decide, with some possessions, to walk the South West Coast path. At first this is difficult, after all they are not trained and Moth has stiff limbs and a painful shoulder. But gradually things get better and they manage, as homeless people, to survive in the beautiful English countryside.

Winn describes their journey and experiences in a pleasant way. She makes beautiful sentences, which pull you into the story. Visual, you can smell the sea air and feel the wind in your hair. And the story is not only about the monster journey, of more than 1000 kilometers. It is certainly also about life and how you save it with all kinds of setbacks. About how they feel once they are hiking and camping wild. And about how people view homeless people and vagrants. She describes the encounters with other people very aptly and allows you to dwell on the unfair system whereby people are immediately seen as pariah as soon as they have no roof over their heads and are expelled from society.

After reading this hopeful and intense story, I was immediately curious how Ray and Moth would continue. Nice to be able to start right away on the second book "The Wild Silence", cause this book is certainly one of my favorites!
The Wild Silence
In "The Wild Silence", Ray and Moth live in an English village on the coast. He is now studying and they live on his student loan. They must live economical and his debilitating disease is becoming more and more visible. Ray cannot get used to life outside the South Coast path and turns more and more inside. She writes about her childhood and the difficult process of saying goodbye to her mother. The first part of the book shows Ray is vulnerable and she is more emotional than in "The Salt Path", but that also makes it a bit heavier.

Becaue Moth has less and less memory of their trek along the coast, Raynor decides to write down their experiences. And she wanted to become a writer, since she was little. When the manuscript is ready she sends it to a publisher. "The Salt Path" becomes, to her surprise, a bestseller. As a result, Raynor crawls more and more out of her shell. A London farm owner in Cornwall approaches the couple to manage his farm. He wants to give nature more space on his property.

The couple decides to accept his offer. In this part of the book there is literally and figuratively more air and space in their lives! Despite having to work very hard, this step benefits both of them.
And eventually they also go for a trekking again. Because walking in nature, putting one foot in front of the other, is the answer to everything. Raynor Winn has become what she always wanted to be, a writer and she describes this journey beautifully. She knows how to describe all facets of the environment in great detail. Very good! Let's hope Moth stays by her side and that they keep hiking in future. And I think there will be another beautiful book from Raynor Winn!
The sun is a compass – a 4000 mile journey into the Alaskan wilds – Caroline van Hemert
The sun is a compass' is the beautiful story of the journey that Caroline van Hemert and her husband Patrick make through the inhospitable wilderness of Alaska. A book that you prefer to read in one go. The visual way of writing ensures that you turn the pages with increasing interest. It is not only a travelogue, it is also a story about personal development and a glimpse into the rich nature described by an experienced biologist.

Caroline is an ornithologist as well as a biologist and she accurately describes the birds and other flora and fauna of this part of America. Together with her husband, she decides to take a monster tour of six months. They start in Washington and end in Kotzebue. Along the coast, over rivers, through forests and over huge mountains. Through an area where there are hardly any roads or paths, where hardly any people live.
The couple decides to make this trip without using engines. The kilometers are mainly hiked, but also skiing, rowing and paddling. This requires extensive preparation, which especially Caroline takes on. For example, she arranges for packages with new food supplies and materials to be on site in several places, and she also delves into the landscape and the weather. They will face enormous challenges, take big risks and have interesting meetings with animals as well as people.
The first part of the book tells about Caroline's childhood. Growing up in Alaska in a family that is fond of nature 'because a breath of fresh air will do you good'. Caroline likes to stick her nose in her books and she doesn't care much about that fresh nose at first. Once she has chosen to study biology, she is more open to the outdoors through the field research she does.
As an ornithologist, she mainly conducts laboratory research and is increasingly beginning to dislike this. When Patrick and Caroline spend a period in the hut that Pat himself built, the idea arises to stay in the wilderness for a longer time.
By the time the tour really starts, you don't want to put the book away and you are very curious how this adventure will end! And you want to go outside and enjoy nature again!
Women in the wilderness by Miriam Lancewood
Miriam Lancewood became a familiar face to me in 2018, when she was interviewed by Floortje Dessing. In the program 'Floortje naar het einde van de wereld' I saw the compelling story of Miriam and Peter who had lived in the beautiful wilderness of New Zealand for years. That episode inspired me and when we had plans to go to New Zealand for this year, I was really looking forward to finally reading this book!
Miriam Lancewood has a pleasant writing style. She takes you from page one on her adventures in the wilderness. You read about the challenges they face: the beautiful but also brutal weather that can change at any moment, the tiring kilometers they travel with an overweight backpack and the challenge to have enough food every day.
The best thing about the book is that Miriam is very open and makes herself vulnerable. You get to know her doubts and considerations, you learn a lot about her relationship with Peter and her fears and insecurities. But above all you see how Miriam grows from life in the wilderness.
It's a nice book. It makes you think whether you would like a life like that, or if you could. Leave everything behind, have no possessions, no luxury, a lot of uncertainty, but always the beautiful nature around you, the freedom to go whereever you want. Miriam is working on a second book, about the walks they have made in Europe. I am very curious!
And as for New Zealand. Of course we didn't go this year … but we just got more excited to leave. We are curious about the beautiful country and amazing nature!
'Alone' by Tim Voors, uitgeverij Fontaine
The Pacific Crest Trail on foot from Mexico to Canada. In "Alone" Tim Voors describes his journey along the challenging and rugged Pacific Crest Trail. He hikes more than 4,000 kilometers in six months. Tim is a father of three and leaves his wife behind as well. He describes his journey in three parts: physical, mental and spiritual. He illustrates the story with fenomonal photos and very nice, homemade paintings of watercolor.
It is a beautifully executed book that is easy to read. It contains some exciting pieces such as climbing Mount Whitney or camping on a road and also funny ones, such as the Hike Naked Day. Tim describes his encounters with fellow walkers in detail and he makes close friendships.
Tim is vulnerable and open about everything he experiences. From big to small problems and the solutions. In addition, Tim asks a number of intriguing questions: When are you really alone? What does it do to your relationship when you go out alone for six months? What do you learn about yourself? Questions that Tim asks himself, but that you can also ask yourself. When are you alone? What would you do, would you go out too? Better: What are you going to do?
The amazing story of the man who cycled from India to Europe for Love – by Per J. Andersson
The book tells the true story of PK, a young street artist working in New Delhi. At the time of his birth, a prophecy was pronounced that he will marry a girl who is not from his country. During his work PK meets the Swedish Lotta, she fully meets the prophecy.
The book delves deeply into the thoughts and philosophies that PK has, the Indian caste system and the history and culture of the country. The book tells in the last part about the 11,000 km bike ride that PK undertakes to see his beloved Lotta back in Sweden.
The cover of the book is striking. Cheerful in color, an Indian atmosphere and inviting texts. On the inside of the cover are the different places and countries that PK visits during his journey along the Hippie trail. At the end of the story are black and white photos of PK, Lotta and their family.
The title and cover gave me the idea that I would read a travel story. A tough journey of 11,000 km! The story does deal with that journey, but is mainly a love story with deeper layers. It is much more about PK and its thoughts than anything else. In the first instance I was disappointed, but in the second I thought that those deeper layers also brought me a lot of thinking. In addition, I have learned a lot more about India in this way!
Pancake adventures . by Willem Dieleman
In Pancake Adventures Willem Dieleman talks about his longing for a great and compelling life. He decides to travel and starts in Istanbul. While surfing through Georgia, Armenia, Iran, Dubai and Pakistan, he experiences all kinds of adventures and meets many different people. In the background it always plays a part that he is still in love with Sem, a girl who does not take his love very seriously.
The baking of pancakes should be the main theme in this novel. The title and back flap gives you that idea. By baking Dieleman wants to bring more joy and commitment. But the baking of the pancakes only comes up late in the story. And has only a limited role after that. Here too I felt misled by title and cover.
Dieleman writes smoothly and pleasantly, his descriptions are visual with a touch of humor. He puts much into perspective, sometimes too much, and his love for Shem is somewhat tiring. The book gives you a good idea of ​​the different places and the special encounters he has, it should only have a different title …
A Walk in the Woods- by Bill Bryson
A Walk in the Woods, by Bill Bryson who you probably know from A Little History of Almost Everything. I knew the story because I saw the entertaining movie 'A walk in the woods' (by Robert Redford) a few years ago.
I was curious about the book, which is a bit older (1999). A Walk in the Woods is about Bryson himself who, after living in England for a few years, returns to his native America. Here he wants to go hiking The Appalachian Trail. A hike of more than 3000 km from Georgia to Maine, which he undertakes with his old school friend Katz.
The story is fascinating, Bryson writes in a pleasantly smooth manner. He humorously reports on the preparations, the first weeks of the trip and the encounters with other hikers. Bryson also describes the history of the AT and tells about the flora and fauna. Here and there the story gets a bit boring. It is also a pity that Bryson does not finish the trip and skips parts.
The best parts are the perilous adventures he has with Katz and the tense relationship between them. Because we hiked in Shenadoah National Park ourselves, this part appealed to me the most. If you want to know more about this, click here. Bryson writes in a way that I was back in that beautiful nature and could imagine the scents and colors vividly. I felt like going there again …. Always nice as a book or story does that!
Into the wild
"Into the wild" by Jon Krakauer is the most famous work of the American writer and mountaineer. An older book from 1996, but still popular among lovers of adventure and wilderness stories, the true story is about Chris MacCandlles, a wealthy young 22-year-old who leaves everything behind and retreats into nature. He roams Central and North America and eventually ends up in Alaska. Here he goes into the wilderness. He has no contact with friends and family and nobody knows where he is. He takes on a different identity and calls himself Alexander Supertramp.
Krakauer made Chris's journey exactly that way, he also saw the people Chris spoke to. He describes the places where he has been, the nature he sees. He does this with great precision and detail. Because of this you will be carried away in the adventures that Chris has.
Chris travels into the wilderness in Alaska with a gun, some rice and some books. He walks on cheap boots and makes no compromises. He rejects society but also does not allow himself much. To be one with nature, is what he wants.
For many people, what Chris did is impulsive, thoughtlessly extremely stupid. But Krakauer takes it up for Chris and explains how some people take on the challenge, pushing the boundaries, even at the risk of their own lives. Being an experienced mountaineer himself, Krakauer knows what he's talking about and makes you love nature even more than you already did.
Meanwhile, the place Chris traveled to in Alaska has become something of a place of pilgrimage. Many young people see an example in him and go, unprepared, into nature in search of the bus where Chris lived. Understandable but irresponsible, because the consequences are disastrous. So enjoy this book but don't look up the place in this case. There are plenty of other beautiful places.
The film adaptation by Sean Penn is also definitely worth seeing!
Wild
Cheryl Strayed's 'Wild' is a book about losing yourself, finding back yourself and hiking 1700 kilometers, as the subtitle indicates.
The book was made into a movie in 2014 starring Reese Witherspoon. Everyone who has seen that film remembers the image of Cheryl carrying an overloaded heavy backpack at the beginning of her journey, almost causing her to fall over!
Cheryl Strayed starts her journey at the age of 26. She is in divorce and her mother has just died. She is not satisfied with how she leads her life with fleeting sex and drugs. Then she decides to change course and go hiking.
Strayed writes in a nice way, you want to know what happens to her and how she deals with it. Even though she is impulsive, she has no experience with hiking or such an impressive hike, she still packs her things and goes!
She describes her most fearful moments, but there is also an enormous amount of hope and pleasure radiating from the story. The PCT tour serves as a background, 'Wild' is mainly about personal growth and development.
The story is set in 1995 and was written by Strayed in 2011. Meanwhile a lot of life experience and self-insight richer. That makes up for the book. Whether you watch the movie or read the book, you will be captivated by the story.
Half year with three underpants- André en Lian de Jel
'Half year with three underpants' (Dutch: Een halfjaar met drie onderbroeken) is only published in Dutch. I came across the book at the Zwerfkei and then got it for my birthday. The 'reviews' written on the back are very positive ('A beautiful, impressive story') so I had high expectations when I started reading.
'Half a year with three underpants' is about the experiences during the walk that André and Lian de Jel make about the PCT. Each chapter is described by one of them, the book is divided into five parts.
To be honest, the book disappointed me. The challenges that André and Lian face are clear. The PCT is a fierce trail from the desert, along the high mountains to the Canadian border with, for example, difficult supplies and forest fires.
The book offers some nice pictures they took along the way and some maps of the trail. However, the story is not compellingly written. I can't quite put my finger on that. I think it lacks depth. When I compare this book with, for example, 'Alone' by Tim Voors, 'Alone' contains much more depth. There are multiple layers in that story and it is well written. I miss that in 'Three underpants'. It is a nice book, but not very exciting or fascinating.